The Queeramid
The Queeramid was created by artist Julia Gartrell for the Town of Chapel Hill Pride with support from the Chapel Hill Downtown Partnership. Descriptions of each side and other information can be found below.
#queeramid #thefirstpridewasariot #saygay #blacktranslivesmatter #juliagartrell @hooliag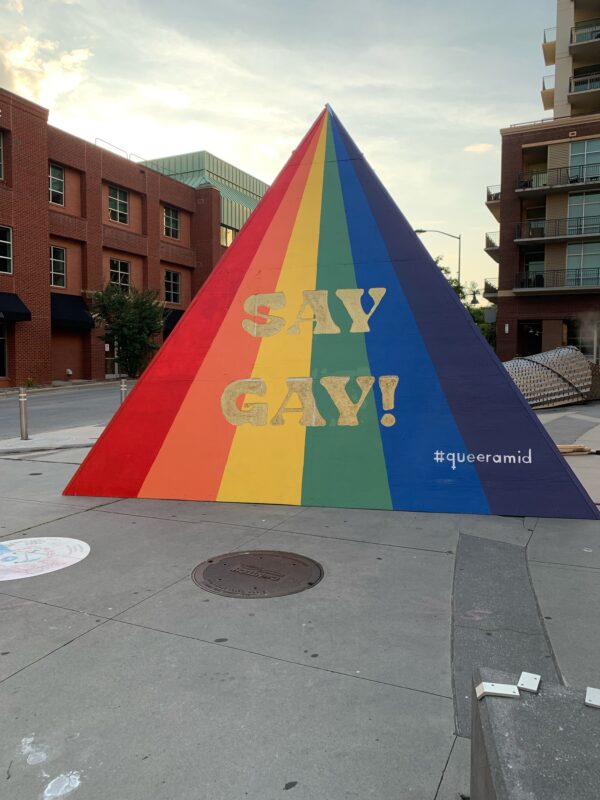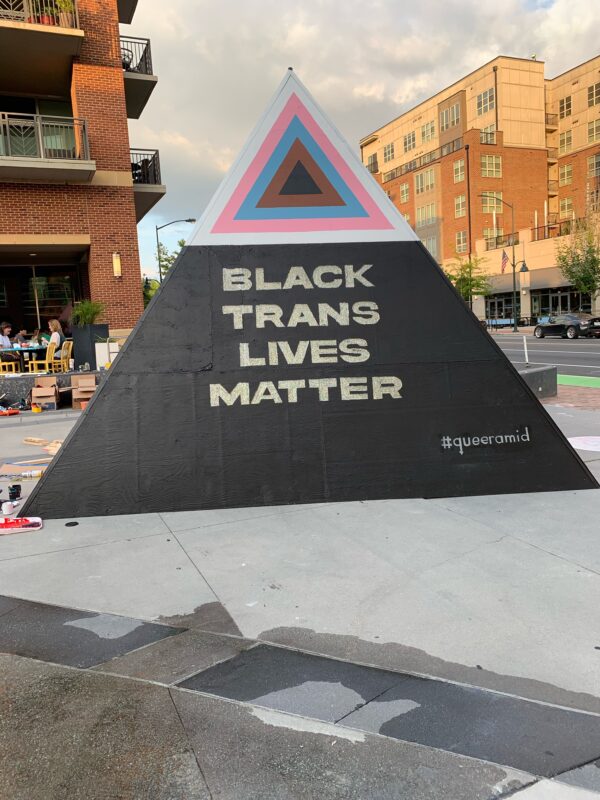 ---
As queer people, now is not a time to be quiet or subtle. The Queeramid is a piece celebrating LGBTQIA+ identities that also reminds us that our rights are still threatened. Each side is connected to the history, politics, and challenges of being queer at this moment in time.
---
SAY GAY!
Say Gay! is a direct response to the "Don't Say Gay" bill signed into law recently in Florida. Restricting conversations for young kids around concepts of gender and sexuality, this law is dangerous and regressive. Telling children, either explicitly or tacitly, that who they are at their core is shameful to the point of being illegal will have direct negative consequences. By SAYING GAY, we are saying, "You are safe! You are loved! You are OK!" While installing the Queeramid, it was delightful to hear pedestrians, bikers, and folks in cars shout "GAY!"
A brief history on the pride flag: The rainbow flag was conceived of in 1978 by a group of artists and activists including Gilbert Baker and Harvey Milk. It was considered a cheerful response to using the pink triangle (see history below) as a symbol of gay pride. There have been many variations on the flag's design since its inception, with a popular new version including trans, BIPOC, and intersex symbolism.
---
THE FIRST PRIDE WAS A RIOT.
The First Pride Was A Riot reminds us that Pride celebrations have activist origins. In 1969 a police raid on gay bar The Stonewall Inn in Greenwich Village, NY turned violent. Patrons fought back and sparked several weeks of protests and demonstrations, demanding the right to live their queer lives in the open. This series of protests is seen as an early turning point in the fight for gay rights becoming a national priority. A year after the Stonewall riots, the first pride parade was held in several major cities across the US to commemorate the important event.
A brief history of the pink triangle: The pink triangle was a symbol used in Nazi Germany to mark gay men in concentration camps (lesbians were marked with a black triangle, which was a catch-all category meaning "asocial"). It was reclaimed (much like the word "queer") by the LGBT community in the 1970s, and has come to represent a wide variety of identities. The original usage of the triangle was point down; activists turned the triangle so the point faces up. The pink triangle is most closely associated with the 1980s poster "SILENCE=DEATH" by AIDS activism group ACT UP.
Here is a link to a podcast discussing the lives of queer people during the Nazi Germany.
---
BLACK TRANS LIVES MATTER
Back Trans Lives Matter. In social movements, marginalization still happens even when progress is being made. Because of systemic discrimination, racism, and the patriarchy, Black Trans people are among the most at–risk members of the LGBTQIA+ community. While much progress has been for many facets of the queer community, folks with intersectional identities that put them in the minority or groups that face discrimination (ie: Black or Latinx, female or trans, low income, drug users, sex workers, etc) are still overlooked and excluded in many activist spaces. Black Trans lives are precious, unique, and must be supported, heard, and protected.
Link to conversation about the challenges Black Trans people face.
The Okra Project is a Mutual Aid project dedicated to helping Black Trans people. You can donate on their website.
Here are some local resources for trans folks
A few notes on the trans flag: The trans flag is pink, blue, and white and was designed by trans woman Monica Helms in 1999. The colors represent "baby boys (blue), baby girls (pink), and those who are transitioning and or consider themselves neutral of gender (white)" The black and brown portions on the Queeramid's trans triangle are pulled from the Pride Progress Flag and intend to represent marginalized minorities.
---
PRESS
Is the Queeramid, in fact, a pyramid? — Triangle Blog Blog, June 1, 2023
Pride Promenade… — The Daily Tar Heel, May 31, 2023
Pride Promenade Photo Essay — The Local Reporter, June 6, 2023
---
THANK YOU!
Many people pulled together to help make this project possible. Thank you (ALWAYS) to my dear life partner Bec Conrad who helped me lift infinite pieces of plywood (sometimes in pouring rain) and whose engineering skills remain unmatched. Thank you to Nick Levy, the Dorsey-Eden family, and the sweet staff at Que Chula.
Thank you to the Town of Chapel Hill and the Downtown Chapel Hill Partnership for making this project a REALITY. Special thanks to Public Art Coordinator Steve Wright and Jeri Lynn Schulke, the Director of Arts and Culture.